CrossFit Templum – CrossFit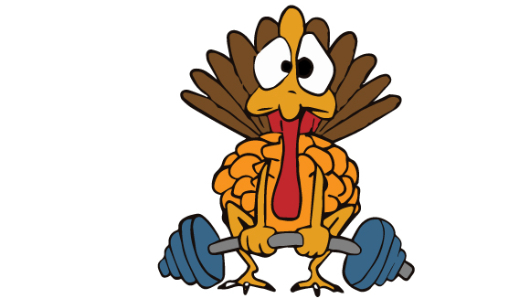 Still Got Turkey Hangover?
Warm-up
Burgener Warm-up (No Measure)
BURGENER WARM-UP:

1. Down and "Finish"

2. Elbows High and Outside

3. Muscle Snatch

4. Snatch Lands at 2″, 4″, 6″

5. Snatch Drops
SKILL TRANSFER EXERCISES:

1. Snatch Push Press

2. Overhead Squat

3. Heaving Snatch Balance

4. Snatch Balance without a dip

5. Snatch Balance with a dip
Weightlifting
Power Snatch (1-1-1-1)
Snatch Pull (1-1-1-1)
Snatch Grip Deadlift (1-1-1-1)
Metcon
Tabata This! (5 Rounds for reps)
Tabata Row
Rest 1 minute
Tabata Squat
Rest 1 minute
Tabata Pull-up
Rest 1 minute
Tabata Push-up
Rest 1 minute
Tabata Sit-up
Tabata score is the least number of reps performed in any of the eight intervals. Unit for the row is "calories". Post Tabata score for each exercise as Reps and total those for final score as Total Reps.
E.G., 10, 22, 9, 15, 15 = 71
Gymnastic or Strength Accessory Work
Double Under Practice: (No Measure)
Complete 4 Rounds of:

60 sec ON and 60 sec OFF at your skill level

*RX Double unders AMRAP

*Alt. Double unders with single unders

*Alt. 3 single unders with 2 double unders

*Alt. 5 single unders with 1 double under

*Alt. 3 single unders with 1 floating single under

*Single unders AMRAP